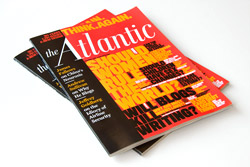 It seems that the New York Times has quickly responded to an article appearing in the Atlantic that speculates about the fate of the newspaper (see my last post). Here's the entire letter as it appeared Folio magazine's Web site:
To the Editor,
Your article "End Times," which speculates on whether The New York Times can survive the death of journalism, leaves a lot to be desired from the standpoint of . . . well, journalism.
It's not unusual that a journalist calls the subject of a piece before actually publishing the article or column. In fact, in some areas of journalism that's standard practice. We wish that had happened with this story. We could have helped. Here are some of the things we would have told you.
We fully recognize that our industry is undergoing unprecedented change as technology alters the habits of our readers and advertisers. At the same time, the cyclical downturn in the U.S. economy has exacerbated advertising declines. But The New York Times Company is in a better position than many others in the newspaper industry because of the steps we have taken to improve our performance. In the last five years, we have focused on developing our digital properties and carefully reducing costs while continuing to provide our readers with great journalism both in print and online.
Your article refers to the paper's credit crisis (never mind the fact that the debt is at the corporate level). We disagree with that characterization. Here's our situation.
We have two revolving credit agreements.
These are agreements with banks that allow us to borrow up to $400 million under each agreement, or $800 million in total, whenever we need it. We repay what we have borrowed as cash comes in and the amount we can borrow is then replenished.
One of our agreements will expire in May 2009 and the other in June 2011.
As we have said publicly on more than one occasion, because we believe we need significantly less than the total $800 million available credit, we do not plan to replace the full $400 million that is expiring in May. There is no need to do so.
We have not already borrowed money against our building's value as your article states. Rather we are in the process of pursuing a sale-leaseback for up to $225 million for some of the space we own in our headquarters building.
The proposed transaction for our building gives us the right to buy back the space at the end of the lease. In the meantime, we would continue to occupy our headquarters. We plan to use the proceeds from the sale-leaseback to repay some of the long-term debt we currently have. So the sale-leaseback would not add to the debt of the company, but rather is a way to refinance some of our existing debt. We have chosen to pursue this form of transaction because it is one of the less expensive forms of borrowing in this difficult credit market.
While credit markets remain tight, we have been talking with lenders and, based on our conversations with them, we expect to get the financing to meet our obligations when they come due. And please remember, we continue to generate good cash flow from our operations.
With regard to the specific point made about the demise of the print edition of The Times in May, it may make for a good a story but it is poor analysis. We have 830,000 loyal readers who have subscribed to The New York Times for more than two years, a number that has increased by about a third over the past decade. They like reading the print edition and pay a substantial amount of money to do so. That's not to say they don't visit NYTimes.com or read our journalism on their mobile devices. They do. But they would be unhappy if they couldn't pick up a print copy. And since it's profitable for us to print these copies, we will continue to do so.
This is a challenging time in our industry and for the U.S. economy. Employees are concerned about their jobs. People in the media industry are working extraordinarily hard to find creative solutions to the issues they face. It is a time for clear thinking and analysis, not uninformed speculation.
Sincerely,
Catherine Mathis
SVP, Corporate Communications
The New York Times Company