A couple of new magazines could soon see the light of the news stand. The first is called The New York Dog. Believe it or not, this niche must be ripe for the entrepreneurial publisher. According to an article in the New York Times, The New York Dog will be produced by Irish magazine publishers Michael O'Doherty and John Ryan. "The 96-page glossy is expected to be printed every two months and is intended to sit alongside Vogue and Cosmopolitan," said the Times. "It even plans to include photo shoots illustrating dog haute couture.
""Instead of talking about women's fashion, we're talking about dogs' fashion," said Mr. O'Doherty in an interview from his office. Following the lead of other magazines, The New York Dog will feature dog horoscopes and obituaries, dog dieting tips and pop psychology advice for dogs.
"In the interest of fairness, the magazine also expects to have an alternative view on its subject. The longtime New York journalist Jimmy Breslin, who does not like dogs, will write a column to be titled "The Back Yard.""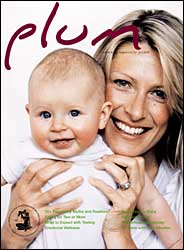 Another publication, soon to hit stands, seems to be a little more down to earth. It's called Plum. "While there are plenty of books and magazines for women who do not know what to expect while expecting, a new magazine geared to women having children later in life is finding a new route to its readers — gynecologists' offices," writes the New York Times. The inaugural issue of Plum, the first pregnancy magazine published for mothers over the age 35, will appear this fall as well. The 200-page annual publication will be produced by Groundbreak Publishing, as a joint effort with the American College of Obstetrics and Gynecologists, and will be distributed in gynecologists' offices.
So will noted "older mom" Mrs. John Edwards be the first cover woman. The publishers aren't saying, only that the first mock-up covers have been produced (seen here), and that the real topics are being vetted. We shall see. It sounds like a winner to me.