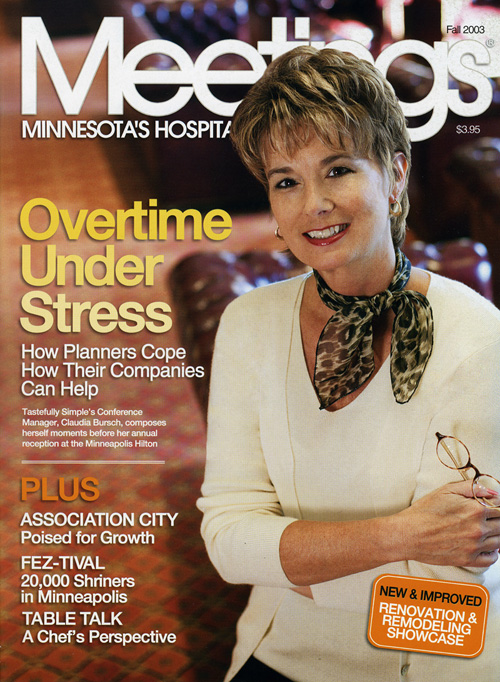 Project Description
Meetings
Association City?
As some believe it could be professional associations' day in the sun.
By Joel Schettler
The era of lifetime employment is dead; long live the association.
Speaking at a conference sponsored by the Greater Washington Society of Association Executives earlier this past summer, well-known management guru and author Tom Peters said the time of working at one company, or profession for that matter, throughout an entire career will end in less than 10 years. As a result, associations will become the new community for like-minded professionals to form amity and share information, Peters predicted, leaving association-sponsored trade shows to become the "utter centerpiece" of each industry. "Electronically and physically," he was quoted in his speech, "this can be associations' great moment in the sun."
With approximately 147,000 U.S. associations in existence — and as many as 1,000 new ones formed each year — the association meeting business has become a prime client of the hospitality industry, says the AMC Institute, a joint marketing venture of the American Society of Association Executives (ASAE) and the International Association of Association Management Companies (IAAMC).
Association events are caught in a precarious crossroad—poised to take greater significance in the development of individual careers, and in the industries they serve, in an economy that has caused other corporate events to wane.
The Twin Cities has always been considered a mid-tier city that attracts many association events. Will this increased association membership activity translate into even greater hospitality business? Since the economic downturn and the events of 9-11, association meetings and events represent a higher proportion of Twin Cities hospitality business, said Kevin Lewis, vice president of convention center sales for the Greater Minneapolis Convention and Visitors Association.
"The association business for the convention center and Minneapolis hotels has remained the backbone of our business. It's still there," Lewis said. "Where the corporate business has drifted, the association business has remained constant."
Association Member
Perhaps Tom Peters is correct in that associations will play a larger role in professionals' lives. But during difficult economic times association membership is a Catch-22. Since associations depend on membership dues and voluntary contributions, they can be particularly vulnerable to pressure to cancel memberships. Yet, the objectives that associations strive to meet remain more significant than ever.
"Associations have always been important, and they will continue to be," said Jaime Nolan, CEO and partner of Edina-based association management company, Synergy Resource Group, Inc. "But the biggest issue right now is the economy. There has been a decline in employer support, such as allowing employees the time to participate in association activities or contributing to membership dues. And as trade show budgets have been cut, associations have to be very careful to present themselves in a positive light, and really present value."
Kathy Johnson, president of the Midwest Society of Association Executives, believes association activity is alive and well, despite economic uncertainty. According to MSAE data, nearly seven out of 10 Americans belong to one association; one in four belong to four or more associations. Particularly in current times, says Johnson, the most useful associations offer opportunities for active local or regional involvement.
"From my perspective, the average member is a member of a state association," Johnson said. "I continue to see that such associations will remain strong. They are about lifelong learning, whether it is promoting new ideas within specific industries or keeping members up to date about government regulations. That's why they are together."
Just as Peters believes, individuals looking for a professional community of peers aren't finding it strictly at the workplace, says John Francis, president and general manager of The Harrington Group, an association management company in Minneapolis. While an association's traditional function to serve an industry's needs won't change, says Francis, associations will become smaller and more specialized.
"I definitely agree [with Tom Peters]," said Francis. "Something that parallels this is that, it seems to me, careers are getting more and more specialized as well. As that happens, people rely on associations for training, networking and learning about new developments in their industries. That creates an even greater need for associations."
And it is this gathering of like-minded individuals with renewed sense of purpose that continues to force associations to evolve, says Jim Manke, president and CEO of Association Solutions, an association management company located in Edina.
"I have been a long believer in the community aspect of associations," said Manke. "After 9-11 and the shock to the system, people are going back to that community in a lot of different ways. Certainly from a professional sense, they are looking to that association forum for dialogue and idea exchange. With the ongoing acceptance of technology for the delivery of information, coupled with the current economic challenges, the days of being isolated is over. People are looking to associations as a distribution channel for the information they need today to survive."
Manke is currently helping a manufacturing association create an inventory control and exchange system to be used directly through the association's Web site. Much like a co-op in some respects, says Manke, the association will assist the member manufacturers in obtaining necessary production materials.
"Associations are getting more involved in day-to-day business," said Manke. "They are maximizing technology and their networks to build the bottom line. And that is a big shift — directly impacting a business in being a member of an association. Before, it might be a duty for someone to join, pay the dues and fees, and not expect a big return. That has changed dramatically."
Steady Business
Association events are big business. Nearly 90,000 meetings were held last year by associations, according to the ASAE. Information released in 2002 by the AMC Institute shows that association-sponsored meetings now account for more than 26 million overnight stays in hotels each year, "pumping billions of dollars into the hospitality industry."
And business should remain steady. Despite economic doldrums, 84 percent of associations will maintain or increase convention or meeting budgets this year, according to the 12th annual Meetings Market Survey conducted in March by Convene magazine.
"Association meetings, which dwarf other group meetings in number, are highly dependable revenue generators for all parties involved," says an ASAE white paper, "Understanding the Meetings Market," issued in late June. "In a post 9-11 world, where caution is a prevailing sentiment, associations have maintained a 'business as usual' pace with regard to holding events, while corporate meetings have fallen off."
A landmark study is currently underway to measure the economic impact of meetings and conventions. Called ExPact 2003, the convention expenditure and impact study is supported by the ASAE, International Association for Exhibition Management (IAEM), Meeting Professionals International (MPI), Professional Convention Management Association (PCMA), and the Convention Industry Council (CIC).
National trends ring true in Minnesota. While corporate events in some industries are quickly disappearing, association activity the Twin Cities remains steady — enough for some to dub the area as "Association City."
"It's true that Minneapolis attracts a lot of association events," said MSAE's Johnson. "There is great convention space in both cities, as well as in Duluth, Rochester, and St. Cloud. I think it gives great flavor for associations having meetings. It's a much different experience than say a New York or San Francisco. And it's more reasonably priced as well."
The Twin Cities offers association meeting planners much to desire, says Tom Triplett, interim president of the St. Paul Convention and Visitors Bureau, which includes an airport with plenty of direct flights to major cities across the country. "For those who have to be on the road a lot, it serves them well."
But the Twin Cities has captured its share of association activities due to other reasons as well, including the "mega-mall" and the available activities associated with the area's many lakes. "The Twin Cities is definitely association friendly," said Nolan of Synergy Resource Group. "Great CVBs are easy to work with and friendly, and the cities are such a draw."
While steady, even association business isn't immune to soft markets. "Attendance has been down since 9-11, and I don't see it turning this year," said Julie Larson, vice president of convention sales and marketing at the St. Paul Convention and Visitors Bureau, regarding association trade shows. Larson predicts that some of the business should return in late 2004; with experts agreeing that trade show attendance levels should rebound by 2005.
But Association City? The GMCVA's Lewis doesn't quite go that far: "Our market has been a pretty consistent mix throughout the years." However, the area does have a "home field advantage" with regard to regional associations. And with a major research university and a lion's share of Fortune 500 companies calling Minneapolis home, says Lewis, many associations find it advantageous to conduct events in the area.
Larson believes the same is true in St. Paul. "We do very well with the Minnesota-based associations," she said. "We could do better in the national market if we had a better convention hotel in the St. Paul area. Yet, it's a Catch-22. It's an extra benefit to say to a group that if they have a national convention or meeting in St. Paul, they are going to own the town."
A Buyer's Market
Overall, lodging industry revenues in the United States declined in 2002 to $102.6 billion from $103.5 billion in 2001, according to the 2003 Lodging Industry Profile conducted by the American Hotel & Lodging Association. With corporate business leaving many hospitality gaps for cities, hotels and convention facilities to fill, associations are finding suitors where none existed.
"It's definitely a buyers' market right now," says Synergy Resource Group's Nolan. "Venues are definitely more flexible in their negotiations, which come down to the organizations' specifications."
The market is now filled with competing cities vying for hospitality dollars, says the GMCVA's Lewis — competitors who weren't always on the scene. Many second- and third-tier cities are improving convention facilities and hotels to attract such business as well.
"It is a very competitive market out there, and it's not just from Denver, Kansas City, St. Louis and Indianapolis," said Lewis. "We are now competing with first-tier cities such as San Francisco, Dallas and Atlanta. Those cities are going after what would normally be second-tier business. But the branding research that we just recently presented clearly indicates that our competitive set includes those cities as well."
Working with an international brand development company, the GMCVA is in the middle of an extensive study to determine how others across the country perceive the Twin Cities as a relocation and visitor destination. Part of this research included interviews with 431 association decision makers.
"Many of the second- and third-tier cities have opened what is considered somewhat of a glut of function space that's out there," said Lewis — which also includes Minneapolis. Completed in April 2002, the Minneapolis convention center expansion added 70 percent more functional space, said Lewis. Renovations included the addition of a 3,400-seat fixed auditorium and 87 meeting rooms. "We still maintain that in these current economic times, we made absolutely the right decision."
As a so-called second-tier city, Minneapolis has not been alone in courting business with conference and trade show facility improvements. New airport terminals have recently been completed or are currently under construction in Cleveland, Detroit and Chicago. Convention facilities have also been improved in Milwaukee, Rosemont, Ill., and Cincinnati, which will begin a $160 million expansion of its convention center next year that will increase exhibit space to 200,000 square feet.
The most attractive cities for association events include Orlando, San Diego, Boston, New York and Chicago, which rank in the top six when measured by annual hotel rooms booked by AMCs, according to the AMC Institute. Other locations that fetch their fair share of meetings and events include San Antonio, Texas, and of course Minneapolis, said The Harrington Company's Francis. "And many of the hotels, 25 to 30 percent, are booked for association or educational meetings. And that can't be anything but positive."
The number-one location for association activities is Washington, D.C. Despite being the center of government — making it a natural home for a great many national associations — the nation's capital is working to further secure its position as an attractive "association city" through monumental development of its own.
Opened in March 2003, the new Washington Convention Center ranks as perhaps the largest construction project in the city's history. The new convention center, the district's biggest building, houses 2.3 million square feet of space and covers a full six city blocks. Features include 700,000 square feet of exhibit space with an additional 125,000 square feet of meeting space.
But that's not to say that St. Paul hasn't rolled out its own red carpet. "St. Paul's open for business," said the St. Paul CVB's Larson. Recent investments include area hotel renovations, as well as a $10.7 million underground connection between the convention center to area hotels, a renovated Wright Park, and $4.2 million renovation of Landmark Plaza. "If you haven't been to our city in a while, you should know it's very friendly for trade show events."
Association executives will get to see the area for themselves, when Minneapolis hosts ASAE's annual meeting in August 2004. Nearly 5,000 association members, who plan meetings of their own, are expected to attend.
The Utter Centerpiece
Next year, when the local chapters of the International Facility Management Association and the Construction Specifications Institute convene, they will do so at one event: the 2004 Construction and Facilities Showcase. "Two of our association clients don't compete but they are in the same industry," said Nolan. Synergy Group is helping the two manufacturing associations collaborate to merge their two trade shows into a larger event that will include educational tracks and keynote speakers of interest to members of both groups, said Nolan.
Such collaboration is only one example of how associations are both adapting events to meet economic conditions, while taking their primary place as essential events within an industry.
So is Peters correct in saying that association trade shows could become the utter centerpiece of an industry? "That's already the case," said The Harrington Company's Francis. "Without question it's the biggest thing that associations do. Many think that webcasting will become dominant. But we are not finding that it will even replace an annual meeting or convention. People like the face-to-face and networking. People will find that they are not staying in the same positions in the workplace. It is natural place for people to learn about the latest developments in their field."
Yet many expert believe that new technology, primarily with the World Wide Web and webcasting, could hurt trade show attendance unless associations incorporate such technology within their overall mission and communication strategies.
"We are entering an era of the evolutionary destruction of the historical trade show model," said Francis Friedman, president of Time & Place Strategies, Inc, an event consulting firm. In a recently delivered industry white paper, "A View into the Future of the Trade Show Industry," Association events and trade shows must be reinvented, said Friedman, in the midst of increasing competition "between various methods of marketing and distribution."
"The tradeshow industry cannot hide behind the mantra of 'we are face-to-face,'" said Friedman. "Technological advancements in two-way video interaction, and increased competition from other media for marketing dollars, will turn up the competitive pressures on trade show-available dollars over this decade."
Associations have to find out how to provide more real value to their members, said MSAE's Johnson, by embracing change. "We hear a lot about technology and how face-to-face meetings will no longer happen. I think that associations will continue to meet face-to-face, and they will supplement these opportunities with technology," said Johnson.
If association trade shows adapt, as well as adapt to their specific market demands, they may meet Peters' prediction of dominant events. "I don't think associations will discontinue face-to-face meeting," said Synergy Resource Group's Nolan. "What they will need to do is take a hard look at the needs of their members and see that what they are offering fits today's needs. Like a business, you need a business plan that changes with the times. It's the exact same with an association."
Associations must change the nature of their events, including more peer-to-peer information exchange, suggests Manke of Association Solutions. "I am hearing that from more professionals. That is taking more value than listening to national speakers," he said. "Attendees really want to get into the details about day-to-day activities — how they are going to do them smarter, faster, better. They want roundtable or town hall meetings on a topic in their industry; they want to be active participants rather than a member of an audience. They want to roll up their sleeves and get real about the information exchange going on. Of course, associations should find ample opportunities for this active exchange and involve the participants as much as they can."
For Minneapolis, such trends can only be positive. As Harrington Co. CEO John Francis, said, "If there are indeed more events, we will get our fair share of them."
Meetings, Fall 2003
Fall 2003