As any book-lover can tell you, most often the weekly New York Times Book Review or the New York Review of Books is enough to satiate the biblio's desire for the latest news about books. Publishers know that as long as the writing is top-notch, ink on folded sheets of newsprint is all that's needed in the way of a periodical's production value to reach readers with news tracking the world's intellectual currents. Yet, isn't there a glossy publication with higher paper stock, printed in full color produced with a reader's interests in mind?
This week I set off to find such a publication at my local bookstore. Since the demise of Book magazine in late 2003, there hasn't been such a magazine. Or at least that's what I thought. Book magazine was a huge success in it's day, reaching as many as 1 million subscribers at the height of its popularity, with features about famous authors, book stores, book clubs and, of course, snap-shot reviews of the latest tomes.
Some would say that the magazine was the victim of its success. I don't know for sure, but here is my take on what might have happened. Early on the magazine received a great promotional push from Barnes & Noble bookstores; it was even offered as an incentive to sign up for the bookstore's Reader Advantage program. Soon, I'm guessing, advvertising rates were set to match it's wide circulation and distribution at bookstores. Printing a million magazines doesn't come cheap either. Yet, when Barnes & Noble pulled its support, the magazine lost circulation and distribution. Soon its frequency changed to bi-monthly, and thus began the magazine death spiral.
"During the magazine's five-year history, Jerome Kramer [Book magazine's publisher] saw circulation grow to 150,000 and then over a million after Barnes & Noble chipped in and started peddling the magazine in its stores," writes Ellen Heltzel at Book Babes. "Although this makes it look like Book Magazine stumbled on its own rapid growth, Kramer says, Au contraire. Unlucky timing — the magazine redesign was launched the same month as 9/11 – was as much to blame as anything, he says, and he's still convinced that there's a place for a magazine that adapts his formula of looking at pop culture and entertainment through "the portal of books."
Book was a good magazine; I bought a few copies over the years. One magazine following roughly the same formula is Pages, a well done magazine published out of San Diego. Yet, Margo Hammond at Book Babes, isn't sure how well the general interest formula will work, no matter how well it's produced. "Small, literary magazines maintain a dedicated readership but, as you point out, they never appeal to a wider public, which is hardly surprising, given their more scholarly approach. That's never going to pull in the crowds. Book Magazine wanted to attract a mass readership by being more entertaining, and for a time, at least, it did." But not on its own without help. I will admit that I haven't had time to page though Pages' pages. But if first glances say anything, I think it looks like it will do well.
One magazine that I didn't know existed until I searched deeper into the racks is Bookmarks. I think this two-year-old, 30,000 circulation publication has the best chance of succeeding in that it takes an entirely different approach in speaking to the book-buying public. The periodical sets out to be merely a "station" for the reader, not the final destination, writes Heltzel at Book Babes. She interviews the mag's publisher: "We're coming from the perspective that readers want to read less about books and more the books themselves," says Jon Phillips, the magazine's editor, who says he co-founded Bookmarks with fellow Harvard Business School grad Allison Nelson after stints in banking and high tech had lost their thrill.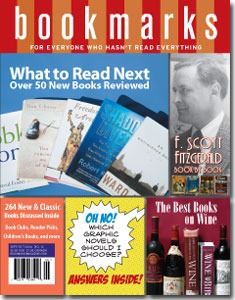 "Son and grandson of a librarian, Phillips qualifies as a "serious" book reader — serious enough to make a habit of clipping reviews out of the newspaper and heading to the library for more context about authors and their works. As such, he didn't think that what the world needed was more 1,000-word reviews, profiles, or think pieces. Instead, his bimonthly compiles and summarizes the reviews in major newspapers and runs features that put context on books and authors, both current and classic."
Bookmarks premise seems most interesting to me; I wish I had found it earlier. I will likely pick in up each time I see it on the newstand. Will any publisher get it right? Margo Hammond thinks so: "The reading public is out there. Someone just has to create and sustain a magazine that features high quality, must-read material about books that isn't afraid to go out on a limb. Where is Tom Wolfe when we need him?"